How to edit an appointment
This article covers how to edit an appointment in the calendar in Pabau.
If you want to reschedule an appointment, check out our article on how to reschedule an appointment.
Also, feel free to check out our Pabau Academy video on appointments.
---
In the left sidebar, go to Calendar.

Click on the appointment you want to edit.

In the menu, select Edit Appointment.

This will expand the menu, allowing you to edit the appointment details. Make the desired changes.

Note: While you can reschedule the appointment by changing the start time, there are easier ways to reschedule appointments. Read our how to reschedule appointments article to learn more.


Click on Save Changes to confirm.

Note: If you're looking to adjust the appointment duration, you can simply drag the bottom of the appointment to increase or decrease the duration.


As you're doing so, Pabau will let you know for how many minutes the appointment is being increased or decreased.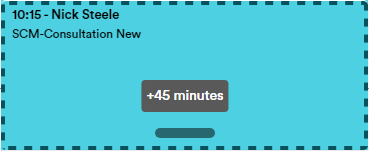 When done, in the prompt, click on Reschedule anyway to confirm.